I've been so busy lately, stuff to design, animations to make for my college assignments. Possibly gonna turn into dead meat soon-ish. Or maybe a zombie from all the sleep deprivation. As a result, this blog is as empty as always. Tons of unfinished posts are building up.
Anyway, I snuck some time out today to participate in
Pen to Paper
's Wishlist Wednesday. :)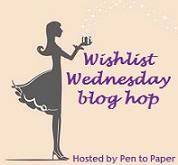 "Wishlist Wednesday is a book blog hop where we will post about one book per week that has been on our wishlist for some time, or just added (it's entirely up to you), that we can't wait to get off the wishlist and onto our wonderful shelves."
To join/for more information, check it out HERE
--------------------------------------------------------
The circus arrives without warning. No announcements precede it. It is simply there, when yesterday it was not. Within the black-and-white striped canvas tents is an utterly unique experience full of breathtaking amazements. It is called Le Cirque des Rêves, and it is only open at night.But behind the scenes, a fierce competition is underway—a duel between two young magicians, Celia and Marco, who have been trained since childhood expressly for this purpose by their mercurial instructors. Unbeknownst to them, this is a game in which only one can be left standing, and the circus is but the stage for a remarkable battle of imagination and will. Despite themselves, however, Celia and Marco tumble headfirst into love—a deep, magical love that makes the lights flicker and the room grow warm whenever they so much as brush hands.True love or not, the game must play out, and the fates of everyone involved, from the cast of extraordinary circus performers to the patrons, hang in the balance, suspended as precariously as the daring acrobats overhead.
--------------------------------------------------------
I've been wanting to read this one for awhile now. Books about circuses interest me. I loved reading Enid Blyton's Mr Galliano's Circus series when I was kid and I absolutely love Darren Shan's Cirque du Freak! I've only been to a circus once (again as a kid). It was such a long time ago that the details are pretty fuzzy, but I do remember enjoying myself. :)
The word "circus" in the title caught my eye and after reading the summary, I was intrigued. I've been waiting for the local bookstores to stock this book but so far they never have it. I could always place an order for the book, but for some reason I never did. Nor did I go for the ebook version as I would usually do when I get too impatient waiting for a hard copy. There's something about this book...that holds me off from rushing to buy the ebook. I want my first experience reading The Night Circus to be from a book I can hold in my hands.
Looking at it now, I would totally order it in a blink of an eye, if only my tbr pile wasn't so high. (Hey that kinda rhymes! xD /corny)